Shihan Kiyoshi Nishime
Founder/Head Karate Instructor
With over 50 years of experience in the martial arts, Master Instructor, Kiyoshi Nishime has taught thousands of students in the tri-state area. A native of Okinawa, Japan, Shihan Nishime moved to the United States in 1973 to teach karate in Cincinnati. In 1998 he was awarded a Lifetime Achievement Award from the Japanese government for his contributions to martial arts and was recognized as the 1999 National Instructor of the Year by the Amateur Athletic Union. He is a 9th Degree Black Belt. As the father of three and grandfather of five, he has seen first-hand how training in Karate together benefits families.
His experience teaching all over the world opened his eyes to the incredible value that martial arts can bring to individuals – both on and off the mats.  His passion is in teaching and showing people of all ages and abilities how martial arts can transform your life.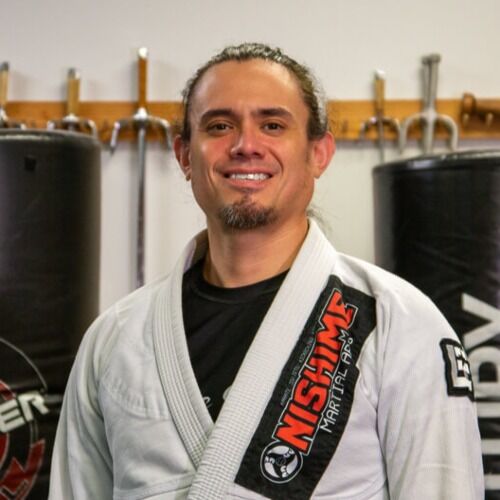 Jason Nishime
Head Brazilian Jiu Jitsu Instructor
Jason Nishime has been training in Karate for almost all of his life. He achieved his Junior Black Belt at just 10 years old. He has competed in numerous competitions and has won 10 National and 8 World titles. He holds black belts in Shorin-Ryu karate and Yamanni-Ryu kobudo.
He began training in BJJ in 2008 and received his black belt in 2022 from world renowned Shawn Hammonds, and he has cross trained in Muay Thai, Kickboxing and MMA.
One of Nishime Family Karate's most popular coaches, he has a professional cornerman license, and he is known for keeping students motivated with his fun, high energy classes.
Most importantly, Jason knows that the primary values of BJJ come from the benefits that transcend the mats, and he enjoys using martial arts to help improve lives.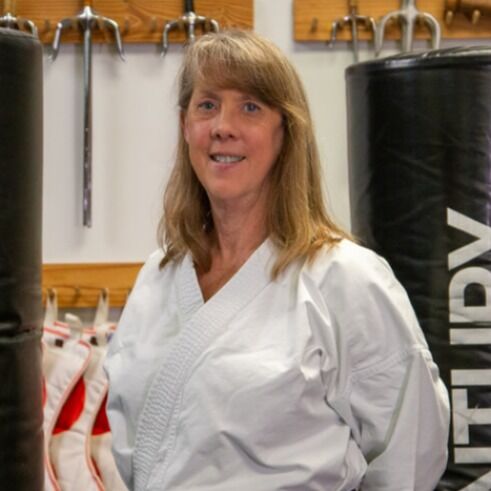 Sensei Mary Beth Nishime
Assistant Instructor
Sensei Mary Beth is a 3rd degree Black Belt who began training in martial arts in 1982 when she became interested in learning how to defend herself. In 1985, she married Shihan Nishime and began helping him with classes at his small dojo. She began attending business classes at the University of Cincinnati with the plan to get a job using her BBA in Accounting while her husband taught martial arts. By the time she graduated, however, the small family business had grown enough that she was needed there full time. For almost 40 years, she has acted as Program Director, secretary, accountant, marketer, and sometime teacher.
Over the years, she has had the pleasure of training with her sons, daughter, and grandchildren and knows that working and sweating together to reach shared goals keeps families strong. It has been her pleasure to help other families experience the same benefits.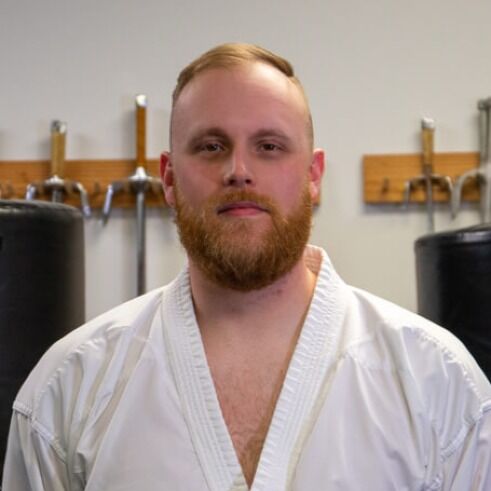 Sensei Drew Canfield
Assistant Instructor
Sensei Drew Canfield is a 3rd Degree Black Belt who started training at the age of seven and earned his junior Black Belt in 2005. He has been actively practicing Brazilian Jiujitsu since 2010. Sensei Drew enjoys teaching all ages and levels of martial arts students to help them reach their goals on and off the mat. One of Sensei Drew's favorite aspects of teaching is hearing and seeing how martial arts have greatly impacted the daily lives of his students and their parents.
FREE TRIAL!
Come try martial arts and us out --- on us. No cost nor obligation. We'll provide everything you need.
2,000 sq ft facility
1,200 sq ft mat space
Men & Women's changing rooms
Seated viewing area
Large parking lot